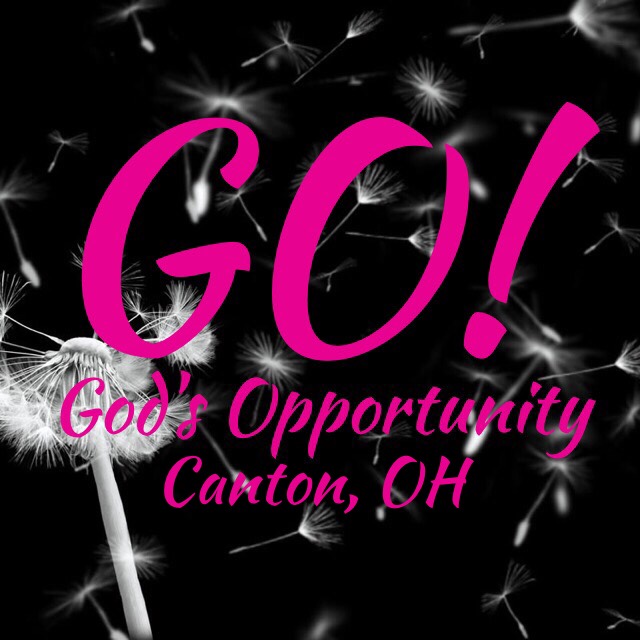 May 16, 2016
Good Morning Princesses! 
I figured that we would start with a different format for our GO! Report.  Below are the details for our summer online book study. (Just wanted to make sure that you are all set for the summer reading).
Below is our May 2016 timeline:
Last week you may have completed the Introduction and How to Use Meet the New You in our new series Meet the New You (book trailer), by Elisa Pullman.
Beginning Week of May 9th- Introduction and How to Use Meet the New You.  By May 30 complete-- Phase 1: A Fresh AwarenessOn May 31- Questions and Video Chat (details to follow)- 6:00 pm – 7:00 pm 
Please take a few moments to complete the GO Online Prep Chat form, which contains details about our scheduled online conversations this summer.
If you have not had a chance to purchase a book, please note that books are available at LifeWay (Canton) or if you wish to purchase online, you can do so as well.
Audio, online or book for $14.99 at LifeWay, $12.98on Amazon or Christianbook.com for $13.99.For those of you that wish to follow along, but will not be able to get the book, I will be providing updates weekly (I'm you lucky accountability princess in the spirit!).  You can also follow along through at Bible.com's YouVersion at the following online link which can be accessed on your computer or phone: Meet the New You-21 Day (YouVersion) at Bible.com.
If you choose this option, note you will receive daily updates, just pace yourself with our timeline.
Okay, now let's get to our topic: 
No Tantrums, Just Confidence
Have you ever thrown a tantrum before, now don't think about the kind you may have thrown when you were a kid, but the kind you have maybe thrown recently as an adult! 
Hmm…I'll give you a moment! 
The fact is that we have all thrown an "I'm a princesses!" tantrum at one time or another in our adult life.  This kind of tantrum is one that may have occurred when something or things did not go our way.  Better yet, if someone was not acting exactly how we would want, enter the tantrum.  Huh!
Have you ever thought that maybe some of the tantrums we have thrown really have nothing to do with that person or thing, but in fact maybe it's really about us.  Maybe it's about our own insecurity. Maybe, it's one of our strongholds that needs to come down.  Where's your helmet!
But what does God have to say about our insecurity…
Take a look at Philippians 4:10-13 (ESV)
God's Provision
10 I rejoiced in the Lord greatly that now at length you have revived your concern for me. You were indeed concerned for me, but you had no opportunity. 11 Not that I am speaking of being in need, for I have learned in whatever situation I am to be content. 12 I know how to be brought low, and I know how to abound. In any and every circumstance, I have learned the secret of facing plenty and hunger, abundance and need. 13 I can do all things through him who strengthens me.
Confidence
As stated verse 13 above, through Christ we are able to do all things.  So, what's your confidence level? If you find that it waivers from time to time, remember whose you are and who keeps you.  Having confidence is a good and healthy thing.  If God is called you to do something; then believe you can.
In Meet the New You, we will focus on our relationship with God (Breath:The Life of God In Us; Living Beyond: Fruit of the Spirit) and refocusing/remember the core truths (The Full Armor). 
Princesses, recognize that as Christians, as Princesses, that you are part of a mighty kingdom and have a grand inheritance.  Our Lord (our Father), has given us what we need. He has equipped us to fulfill what He has called us to do.
So, do you trust God? Are you being led by your frustrations?  Who are you listening to?
Remember your core. 
God has a plan for you. If we feel we are lacking, well, remember God has already mapped it out.  He has already provided and the deposit has been made. We are not self-defeaters, so get out of your head and walk in confidence.
CONFIDENCE ladies
I can do all things through Christ who strengthens me!
As you are putting on your daily armor and praying, believe Philippians 4:13 and walk in it daily.
So, what's the fundamental game plan?  Very pointed and direct… to be the Princesses HE has called us to be; to be the salt and light of the world; to point to Christ. To do so, we need both confidence and boldness.
Take a look at Acts Chapter 4
Here's the cliff notes version-
The Beautiful Gate
We pick up from Acts 3 where Peter and John healed the lame beggar who daily laid at the gate of the temple called the Beautiful Gate. People passed by the beggar daily. When Peter and  John met up with the begga at the Beautiful Gate, rather than giving him alms, they prayed and he was healed.  In Chapter 4, Peter and John were arrested for teaching the Good News (Jesus death and resurrection)
While they were in jail (they were put in custody until the next day since it was late in the evening)
Those that heard the message believed and 5,000 were saved.
The Inquisition
The next day, Jewish leadership questioned Peter and John. The Sanhedrin asked, "By what power or by what name have you done this".
Peter was filled with the Holy Spirit again. Peter got to preach about Jesus to the leaders of the Jews
Peter responded boldly, evidenced by his supernatural boldness and ability to speak the gospel directly to the heart of the matter.
Hostile examiners confirmed a miraculous healing.The enemies of Jesus were confused
The Jewish leaders observed the boldness and realizing that Peter and John were untrained and uneducated, they were amazed and recognized that they had been with Jesus.
The leaders realized they had no case (seeing the man who had been healed standing with them, they could say nothing against it) so they threatened them against speaking and preaching in Jesus' name. 
Peter and John were bolder for Jesus than ever before
Peter and John responded with even more boldness and said, "No, they would not stop speaking about what they had seen and heard".
More threats ensured, but Peter and John didn't budge.
The leaders couldn't find a way to punish them and let them go.
God was glorified
Upon release, Peter and John went to their own people to report everything.  The people prayed for BOLDNESS.
They received the boldness they asked for. "The word boldnessmeans lucid and daring statement. In the Greek the word is parresia, 'telling it all.'" (Ogilvie)
There's a lot of nuggets of boldness and confidence in Acts 4, but one key nugget that you should read is found in Acts 4:23- 31:
The Believers Pray for Boldness
23 When they were released, they went to their friends and reported what the chief priests and the elders had said to them. 24 And when they heard it, they lifted their voices together to God and said, "Sovereign Lord, who made the heaven and the earth and the sea and everything in them, 25 who through the mouth of our father David, your servant, said by the Holy Spirit,
"'Why did the Gentiles rage, and the peoples plot in vain?
26 The kings of the earth set themselves, and the rulers were gathered together, against the Lord and against his Anointed'—
27 for truly in this city there were gathered together against your holy servant Jesus, whom you anointed, both Herod and Pontius Pilate, along with the Gentiles and the peoples of Israel, 28 to do whatever your hand and your plan had predestined to take place. 29 And now, Lord, look upon their threats and grant to your servants to continue to speak your word with all boldness, 30 while you stretch out your hand to heal, and signs and wonders are performed through the name of your holy servant Jesus." 31 And when they had prayed, the place in which they were gathered together was shaken, and they were all filled with the Holy Spirit and continued to speak the word of God with boldness.
As you have read,
Their boldness was a gift from God, received through prayer. It was not something that they tried to work up in themselves. Boldness is also necessary today. In realizing our "new you" we must be both bold and confident to carry out our assignment from God. We can only be both bold and confident by taking God's lead and being filled with the Holy Spirit.  Remember, whose you are.
Confidence….
1 John 5:14-15 (ESV)
14 And this is the confidence that we have toward him, that if we ask anything according to his will he hears us. 15 And if we know that he hears us in whatever we ask, we know that we have the requests that we have asked of him.
Why be bold, why be confident?
Our Position- because of our relationship with Jesus Christ; we are His Princesses.  When we are filled with the Spirit we are strengthened; andHis promises – Christ has promised to always be with us and to enable us.  We can do anything and everything God has called us to do if it is within His will.  In sum, if HE called you to do it, then you can!
Rest in God's assistance that you can to do anything and everything He has called you to do.  This is everything ladies, not just some things, but everything!
Closing Thought
As you begin Phase 1: A Fresh Awareness in Meet the New You, be intentional (reinforcing who we are and understanding our inheritance) andpray for boldness and confidence.
My prayer for you is that the Holy Spirit will stir and awaken in you.Rest in God's assistance that you can to do anything and everything He has called you to do.  This is everything ladies, not just some things, but everything!
Closing Thought
As you begin Phase 1: A Fresh Awareness in Meet the New You, be intentional (reinforcing who we are and understanding our inheritance) andpray for boldness and confidence. 
My prayer for you is that the Holy Spirit will stir and awaken in you.
That you will see all the possibilities that God has for you. 
That you will come to believe and understand what our mighty God has spoken over you before you had even arrived on this earth. 
That you will come to see what God has already and has always known about you, the woman you were born to become, full of Hope, Joy and Strength.
Don't settle.  GO!
Know that through the Holy Spirit you can:
•   do things you couldn't;
•    feel things you didn't; and
•    know things you wouldn't.
For your praise and worship:
I Know the Plans - M. Munizzi
Your Latter Will Be Greater - I. Houghton & New Breed
I Am A Friend of God- I. Houghton & New Breed
Housekeeping:
In case you are in a busy season, I have pre-registered you for May 31st reminder.  Hope you can join us.Chat with you on Tuesday, May 31st as we debrief Phase 1: A Fresh Awareness via Google Chat (Hangout)
Remember, each day is an opportunity for us to...
Lead, Serve, GO!  
Krista
Each day we have an opportunity to be the light and salt God has called us to be to others.   Matthew 5:13-16 (NIV)