July 11, 2016 
Good Morning Princesses!
I hope all of you had a relaxing July 4th holiday weekend. For this week, see the link to the June 28th, GO! Live Phase 2 debrief (8:52).  
Also included is a link to Our Purpose Is God's Will (Beth Moore), this was a final video shared in our debrief.
Have a wonderful week. See below for a bit of Truth.
Romans 8:28 (NIV)   "And we know that in all things God works for the good of those who love him, who have been called according to his purpose."
Closing Thought-  (1 John 4:4)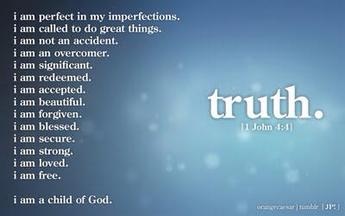 Know that through the Holy Spirit you can:
•    do things you couldn't;
•    feel things you didn't; and
•    know things you wouldn't.
For your praise and worship:
You Are- K. Sheard
Housekeeping:
We are currently reading, Phase 3, "Overcome Obstacles" in Meet the New You.  Don't forget our next debrief is scheduled for July 26 from 6:30- 7:30 pm via Google Hangout LIVE.*Summer melody coming July 25th*
Remember, each day is an opportunity for us to...
Lead, Serve and GO!
Krista
Each day we have an opportunity to be the light and salt God has called us to be to others.    Matthew 5:13-16 (NIV)